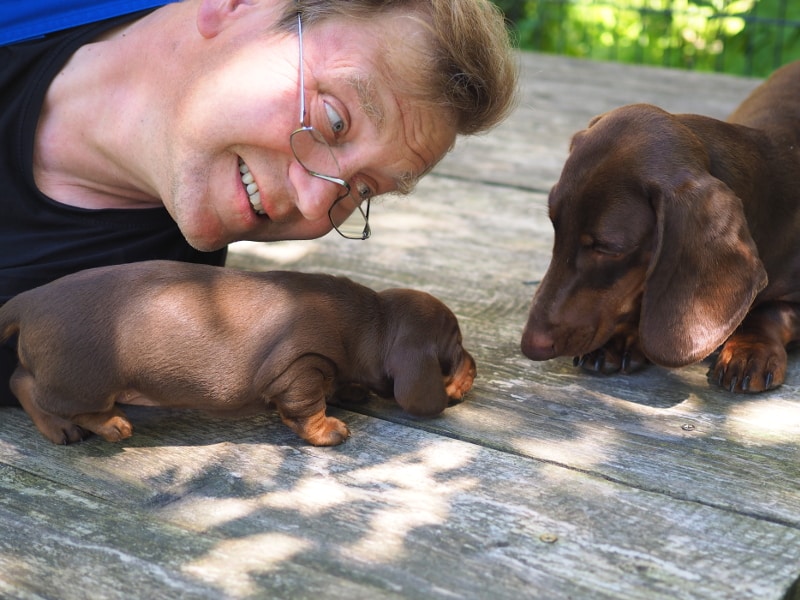 We are breeding smooth haired dachshunds according to the regulations of DTK, VDH and FCI. We do not go hunting but keep our dachshunds as family dogs on our spacious house and plot not far from Berlin in the middle of the Natural Park Barnim in the beautiful city of Biesenthal. We reject a kennel attitude for us; only in the heat, in case of illness or if puppies leading bitches stay within the house or the apartment, spatial separations are carried out. We take care to confront our dogs early with the environmental stimuli to which they will be exposed later. Our dogs are as familiar with bus, train and car as they are with household noises of all kinds.
Although we grew up with dogs and especially dachshunds in the family from earliest youth, the first years in Berlin were dog-free and then … everything went really fast. After a vacation care for two dogs we found that it was pretty empty on the sofa and too quiet in the apartment. A few days later, we already had a dachshund puppy from the dissidence in our lap, who has been marveled suspiciously at each exhibition, to which he accompanied us. Not nice, but rare is his motto.
A few weeks later, the first "real" Dachshund, Engels Tango, whom we soon called "Bruno", came to us, and we have meanwhile been able to achieve a series of titles and championships. Bruno is in every respect a stroke of luck, not least because he gave us the acquaintance and one may say by now friendship with his breeder, Brigitte Engel in Wermelskirchen.
Certainly, there are many dear people who help us with their advice and sometimes with energetic support, and from whom we still learn a lot. We are indebted to all of you, but especially to Brigitte Engel, whose exceptional experience and excellent breeding performance have always allowed us to profit to a very special degree.
Of course, we are in possession of a valid permit according to §11 TierSchG and have submitted the related expertise check. The licensing and supervisory authority is the district administrator of the Barnim district, Am Markt 1, 16225 Eberswalde.
Our goal is not to produce puppies. We want to use our Dachshund breeding to contribute to the maintenance and further development of the breed by breeding healthy, stable and strong type dogs that are capable of their traditional, albeit increasingly rare, hunting purpose or their main tasks today as loyal family dogs comply.
We breed for joy, but not for fun.