Kennel: Botzensteiners (24QC)
Breeders: Hanns-Joachim Botz and Jochen Steinert, 16359 Biesenthal
Sire: Big Bad Woof Empire of Glory (FCI), VDH/DTK-Nr. A18T0002K
Dam: Engels Fiorenza, VDH/DTK-Nr. 15T0283K
Date of Birth: June 28th, 2020
Number of Puppies: 1 male, 4 females
Engels Fiorenza is not a dachshund; Fiorenza is an … occurrence!
She remains true to this reputation. After mating with Big Bad Woof Empire of Glory FCI, again with the active support of his owner, Andrea Schosland, we began to have doubts as to whether …?
It was a long time past the usual three weeks before we were sure that there might be more legitimate concerns.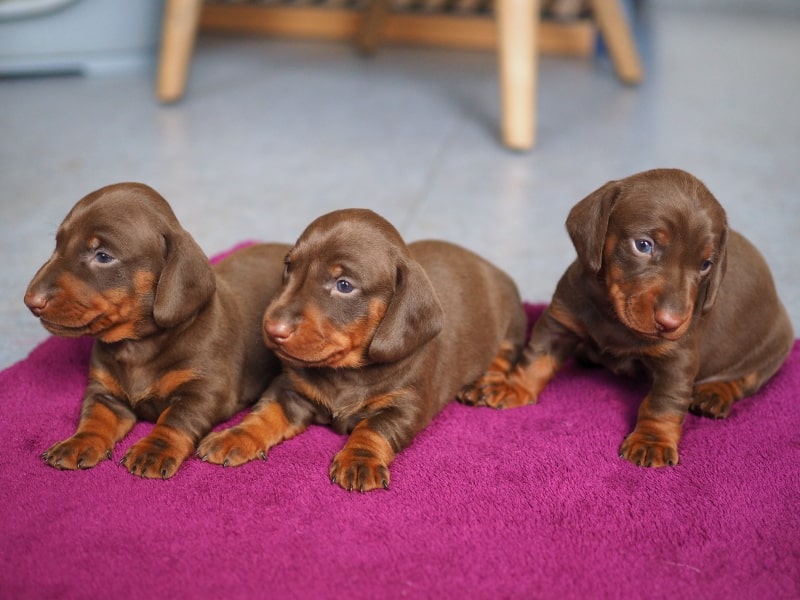 However, she doesn't seem to have too much of an opinion of the male sex, because after a really capital black and tan male puppy (with a beautifully pronounced branding) only girls popped!? Anyway, the three brown and one black and tan lady sometimes had a lot of work to do to keep the firstborn away from the milk bar, but they turned out more than saturated.
So it is not surprising that our breeding warden found nothing to complain about during the litter acceptance, but demonstratively had to tick "nutritional status good" as the very first thing in her acceptance report.