Kennel: Botzensteiners (24QC)
Breeders: Hanns-Joachim Botz and Jochen Steinert, 16359 Biesenthal
Sire: Botzensteiners Doctor Dust, VDH/DTK-Nr. 15T0500K/T
Dam: Botzensteiners Henny, VDH/DTK-Nr. 16T0455K
Date of Birth: June 12th, 2020
Number of Puppies: 2 males | 4 females
All puppies of this litter are already taken.
Botzensteiners Henny, black and tan and pure-bred short-haired, had no reservations this time about getting involved with the magnificent Botzensteiners Doctor Dust.
However, we were not completely at ease, because the new pairing was an experiment. If a first bitch gives birth to only a small litter for no apparent reason the advice is that she may be mated again without a breeding break in the following heat in the hope of more offspring. After a critical look at Henny's constitution and a health check without any findings, we let the two of them take action and breathed a sigh of relief when on the 61st day on June 12th 2020 the pregnancy and birth ended without any problems.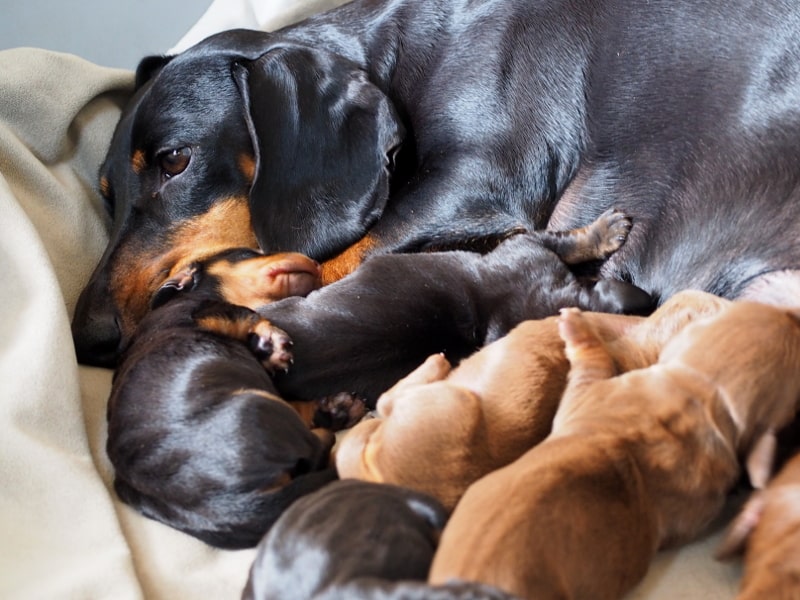 Again she gave us a brown and a black and tan male who have to share the space at the milk bar with two brown and two black and tan girls. As usual Henny approaches the matter with instinctive confidence and meanwhile has turned the little worms into proper and active puppies, which learn under her expert guidance how to dig and tear out sods.
She is supported in this by the proud father, who, however, now and then loses a little of his dignity if too many puppies show enthusiasm for him at once and because of that prefers to escape to a garden bench. Meanwhile Henny usually lies in the sun, looks at the scene with one eye and thinks "Men …"!