Kennel: Botzensteiners (24QC)
Breeders: Hanns-Joachim Botz and Jochen Steinert, 16359 Biesenthal
Sire: Botzensteiners Enzo, VDH/DTK-Nr. 15Z0159K
Dam: Botzensteiners Frollein, VDH/DTK-Nr. 16Z0081K/Zw
Date of Birth: March 18th, 2020
Number of Puppies: 3 males, 3 females
Botzensteiners Frollein doesn't have to hide behind the successes of her mother Engels Hatschepsut and her grandfather Engels Tango. Landesjugendsiegerin, Jugendchampion, Landessiegerin, Bundessiegerin and Deutscher Champion … she knew how to use one's time on the catwalk.
The friendly and bright girl has now grown into a young lady and conquers the gentlemen's world. The first connection with Haker iz Taksomanii has already produced beautiful miniature puppies and her daughter Botzensteiner's Money-penny is celebrating her first show successes in Austria.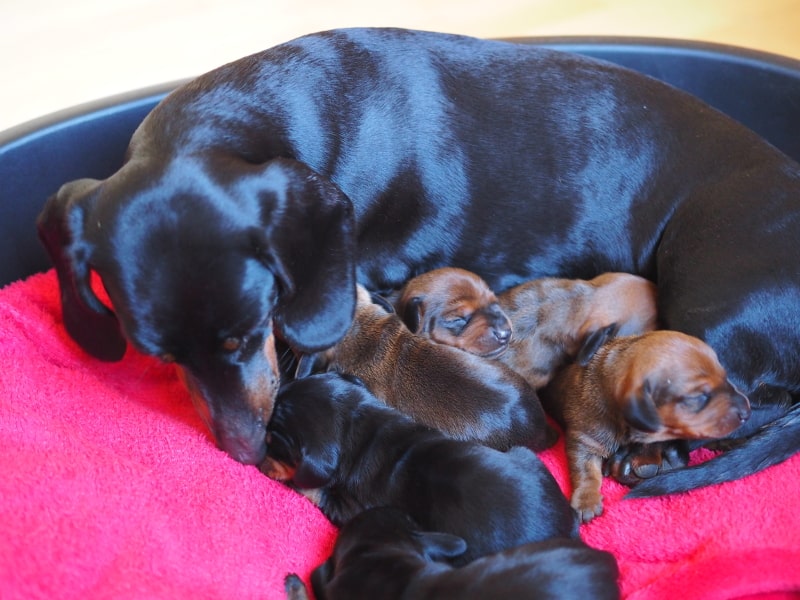 So now from her connection with Botzensteiners Enzo, there is a new miniature dachshund litter in the box since March 18, 2020, which she looks after with great instinctive confidence and care. She has done justice. Two red boys and two red girls each, plus one male and one female puppy in black and tan without blemish.
The young things grow and flourish splendidly and Frollein hardly seems to be able to wait of presenting herself to the world with this swarm of comets in tow.