Kennel: Botzensteiners (24QC)
Breeders: Hanns-Joachim Botz and Jochen Steinert, 16359 Biesenthal
Sire: Botzensteiners Doctor Dust, VDH/DTK-Nr. 15T0500K/T
Dam: Botzensteiners Henny, VDH/DTK-Nr. 16T0455K
Date of Birth: November 13rd 2019
Number of Puppies: 2 males | 2 females
Botzensteiners Henny first had to be persuaded to say goodbye to her virginity with the magnificent Botzensteiner's Doctor Dust. It doesn't always seem to be an advantage to bring an experienced stud dog together with a first-time bitch. The big brown one knows where to go and sometimes foregoes lengthy foreplay and the bride reacts with an indignant "What do you allow yourself?" and would like a little more tenderness. But in the end it worked out quite well and after a problem-free pregnancy the birth took place just as problem-free on the 63rd day on November 13, 2019.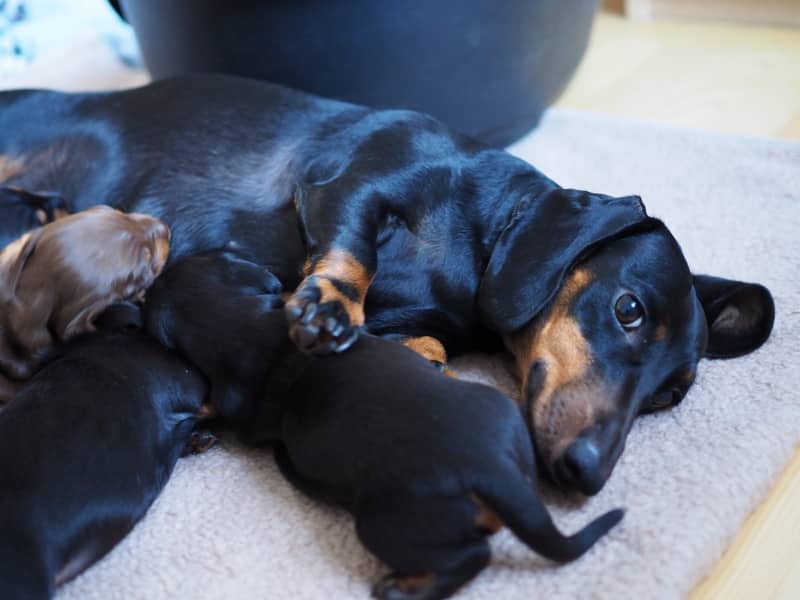 Henny managed it all with admirable instinct. With the exception of a brief uncertainty at the first puppy, what exactly should be done now, she was committed to the matter and did not agree at all when it came to the final inspection of weighing by human hands. It is always a pleasure to see how a bitch adapts her entire behavior to the offspring and how a wild child with nothing but nonsense in her head suddenly becomes completely mother .
Two black and tan girls, each with a black and tan and a brown brother, formed a funny quartet and made the veterinarian and the breed warden happy as well. Once again, any prejudice against so-called winter offspring was taken ad absurdum. The four of them are far more active outside than summer puppies in the sweltering heat would be, and neither the morning frost nor the occasional rain spoil their good mood. They can study butterflies later.
Brown "Uluru" has already found a new home (and of course a new nickname); he or his new dachshund mom will stay with us as new members of our dachshund group Raben and we look forward to seeing them again regularly at work with the dog or at social events in the dachshund group!