Engels Harlekin
VDH/DTK-No.: 12Z0057K/T – DTK-Pedigree
Breeder: Brigitte Engel, 42929 Wermelskirchen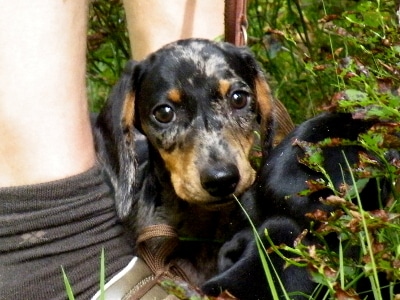 Harlekin, a black-dappled dachshund, is one of our standard males, although he is a direct descendant of a miniature mating. He represents the medium standard type and is a good example that the suitability of a dog for breeding has little in common with his exhibition aptitude.
Harlekin is extremely philanthropic but generally hostile to foreign males. Balance is not his strength. An inclination to uncertainty is undeniable. We are vividly reminded of a Landsiegerausstellung, in which his stay on the judge's table abruptly ended due to the sudden departure of a hunting horn group. There was nothing left to do with him that day and we decided not to pursue his show career.
Nonetheless his recent offspring in standard size impresses with flawless anatomy, elegant charisma and a friendly, attentive nature.
Harlekin impresses with his distinctive male head with the long catch, which features a fabulously well-developed set of teeth, his perfect hair and impressive movement, which he performs in parallel, creating an elegant, expansive thrust without any visible effort.
Gallery