Botzensteiners Chlodwig (Miniature Dachshund)
Date of Birth: September 24th, 2014
Klubjugendsieger 2015, Landessieger 2017
homozygous smooth-haired
homozygous free of Griscelli type 1 dog analogue
VDH/DTK No.: 14Z0115K/Zw – DTK-Pedigree [PDF]
Breeders: Hanns-Joachim Botz und Jochen Steinert, 16359 Biesenthal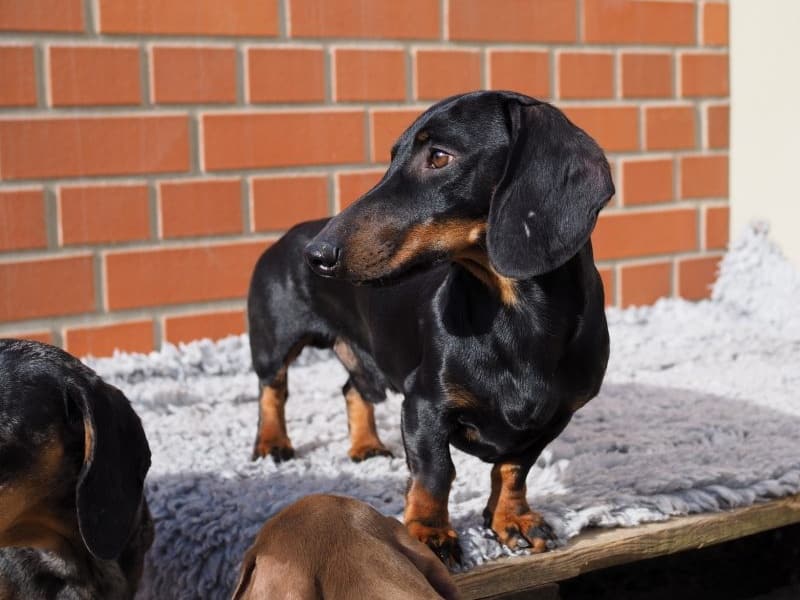 There are miniature dachshunds where opinions tend to differ sharply. Chlodwig is one of those. His "shortcoming" is in the eyes of some dachshund enthusiasts the absence of something, that is often called a delightful "Kleinteckelköpfchens" in judge reports.
No, his eyes are not round, his muzzle is not rather short; Clovis has a masculine cut and expressive male head and, as it should be according to the standard description, wonderful dark, almond-shaped eyes! Unfortunately, this does not correspond to the childlike pattern still sometimes assumed for dwarf dachshunds. Especially not when you consider his excellent bone strength and his powerful stride through the ring, far away from any tripping, which is characteristic of one or the other colleague. From his perfect hindquarters he develops a good thrust and lets the abundant musculature play under the ideal coat, so that one can enjoy the harmonious interplay of lower and upper line. Chlodwig's chest circumference is at the upper end of the miniature dachshund scale and to ensure that nothing changes, he trains as much as he can. He loves to dig for his life and is a real water freak, unless he is thrown into a strange group of dogs at a foreign body of water and has to pass a water test. Then he is also capable of saying "fiddlesticks" in a friendly but firm manner.
We are proud that he, together with his half-sister Botzensteiners Frollein (among others Federal Winner 2017) as Club Junior Winner 2015 and State Winner 2017, continues the tradition of his mother, our Engels Hatschepsut (Federal Junior Winner 2013) and his grandfather, our Engels Tango (among others Club Winner 2012, Federal Winner 2013 and European Winner 2013), who had an accident much too early. Chlodwig is gun-proof and has now been approved for breeding after passing the BHP 1 and 3; he is available to suitable bitches as a stud dog.
Gallery
---
You might also be interested in