Botzensteiners Lieselotte
VDH/DTK-No.: 18T0013K – DTK-pedigree
Breeders: Hanns-Joachim Botz and Jochen Steinert, 16359 Biesenthhal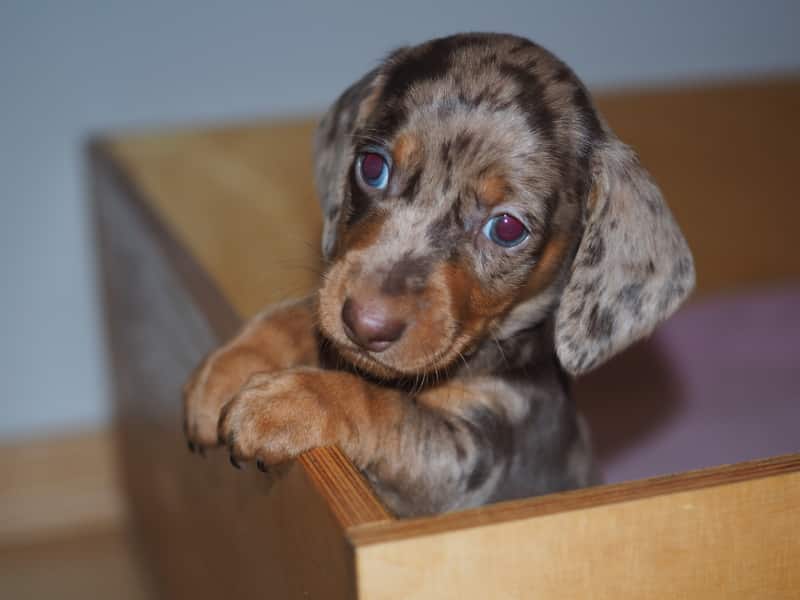 Our Lieselotte has everything that can reasonably be expected from a breeding bitch of normal size. She is also economical in maintenance. Why that? Well, as a dapple dachshund it has never been easy at exhibitions when it comes to first places and thus subjective liking. Not every judge likes the spotted drawing, especially not when due to internal defaults in the club, the brown dapples were suddenly no longer represented in the internationally applicable breed standard. If your dachshund is blessed with bruises in both eyes, like Lieselotte is, you have to expect to spend a lot more registration fees and travel expenses until you achieve the required number of top placements for championships.
So the family council met over the little puppy, rocked the heads and decided: the little one stays at home.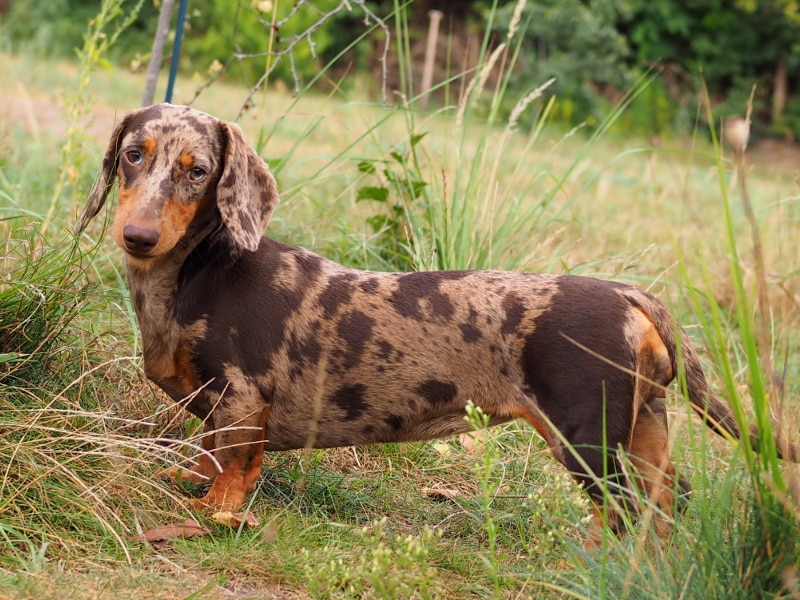 As she got older it became obvious that she really didn't need to hide with her excellent substance and with a very good upper and lower line and impeccable gait. In terms of quantity, quality and depth of pigmentation of the coat her qualities are extraordinary as well. Nevertheless the decision lasted, despite the brown dappple had found its way into breed standard again.
Lieselotte passed her companion dog test in the first prize at the age of eleven months with full marks and waited for things. We were only tempted once when at the anniversary breeding show of the Ravensburg teckel group with a correspondingly large field of participants, Lieselotte got the breeding form value "excellent" at age 17 month and was also chosen the best shorthair of the entire event.
Lieselotte doesn't care, and when she activates the fastest rod this side of the Mississippi again and the whole rear body joins in, it becomes clear that she has set her priorities differently …
Gallery