Most people dislike repetitions, it is said. That is not tenable in our view looking at this litter. After all, the first mating of the two miniature dachshunds has produced our Botzensteiners Frollein (Bundessiegerin 2017). Even Hatshepsut seemed to be able to gain more from the reiteration with the chic brown Edmund than at the premiere. The only "disadvantage" of this combination: the two are specialized in males. Once again male came after male and this time a lonely girl has to assert amongst five boys.
So far the little girl masters this very well, supported by her loving and instinctive mother. But no wonder, the boys are beautiful enough and have no reason for teasing their sister. They begrudge the white breast patch to her, which she wears as the only sibling.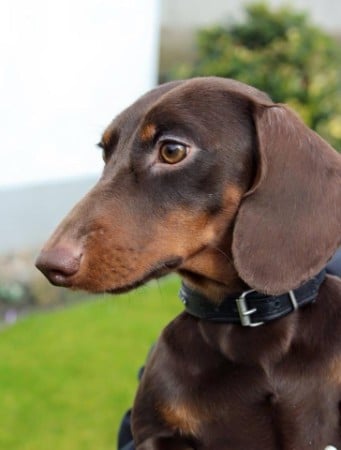 The puppies can receive interested visitors from calendar week seven on and would be ready to be picked up in the mid of march. If you are interested in accompanying one of the black doxies through life, please use our contact form or call us directly on 0049 3337 3999058.