"They are funny. They are clever. They do not take up so much space, and you get, so to speak, a complete dog the size of half a dog."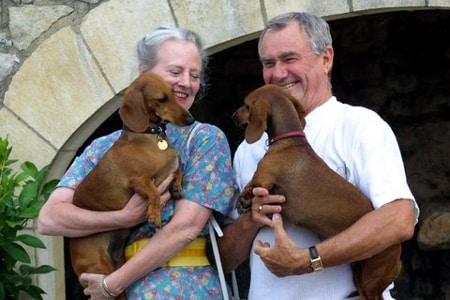 This is how Queen Margrethe II of Denmark described the character of her four-legged friends. In July 2012, the media had reported that the 14-year-old dachshund Lady Evita "died after a long time with declining health". She was the personal farm dog of Queen Margrethe. Meanwhile a new dachshund called Helike has been introduced to the royal court. Helike is a gift from Margrethe's husband, Prince Henrik.
In a 2018 video of the Danish royal family, Queen Margrethe brings rice pudding to the goblins – "nits" in Danish – in the attic to keep them out of mischief. The monarch wears a jumper with a dachshund on it, whose back ends up on her back.
"She likes dogs, horses, men and women – in that order."

Graham Turner [Writer for the Daily Telegraph]
Queen Elizabeth II is known for her love of animals. The dog in the photo is probably the red miniature short-haired dachshund Nicky of her mother, who was an honorary member for life in the English Dachshund Club.
Princess Margaret, Queen Elizabeth's sister, owned three dogs. A Sealyham Terrier named Pippin, as well as a Cavalier King Charles Spaniel named Rowley and a Dachshund named Pipkin. This dog mated with one of the Queen's corgis. The offspring were later named "Dorgis".
Queen Elizabeth's last corgi, Whisper, died in 2018, so two dorgis, Vulcan and Candy, accompanied her in last years. Vulcan died in 2020 and Candy passed from this world 2022 in Balmoral. She lived eighteen years by the side of the Queen.
When Candy died, the Queen arranged for the dog's remains to be flown to London and transferred to Windsor, where she was buried with her longtime companion Vulcan.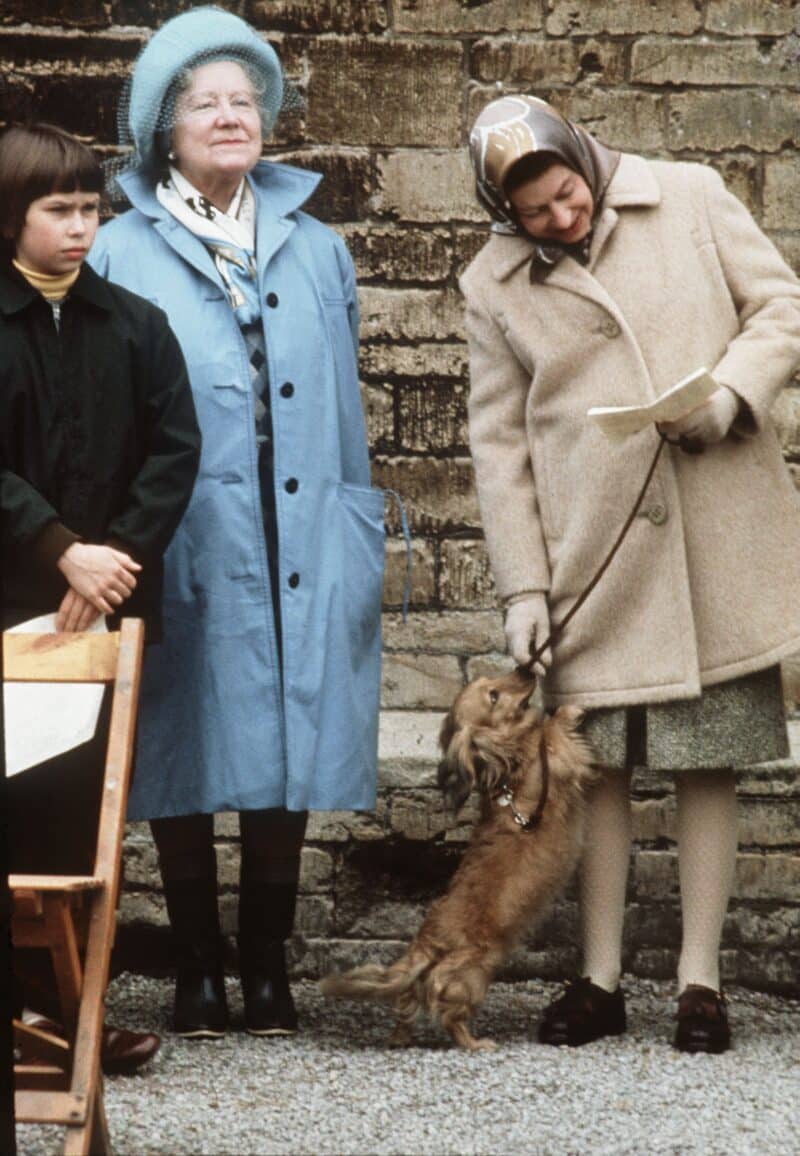 For the duration of her life, the Queen wanted to bury her dogs where they died. Her unexpected plans suggested that the Queen intended to return to London at the end of her stay at Balmoral. However, Her Majesty did not make it home and passed away peacefully at the age of 96.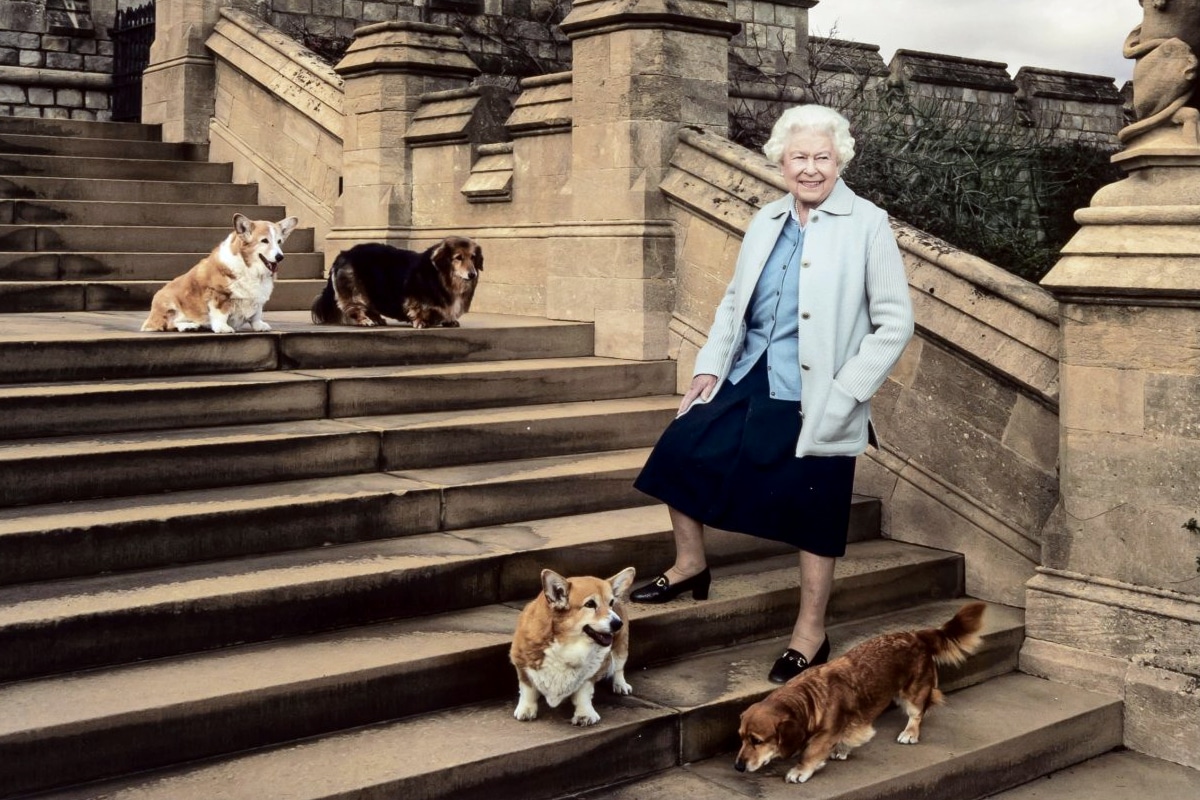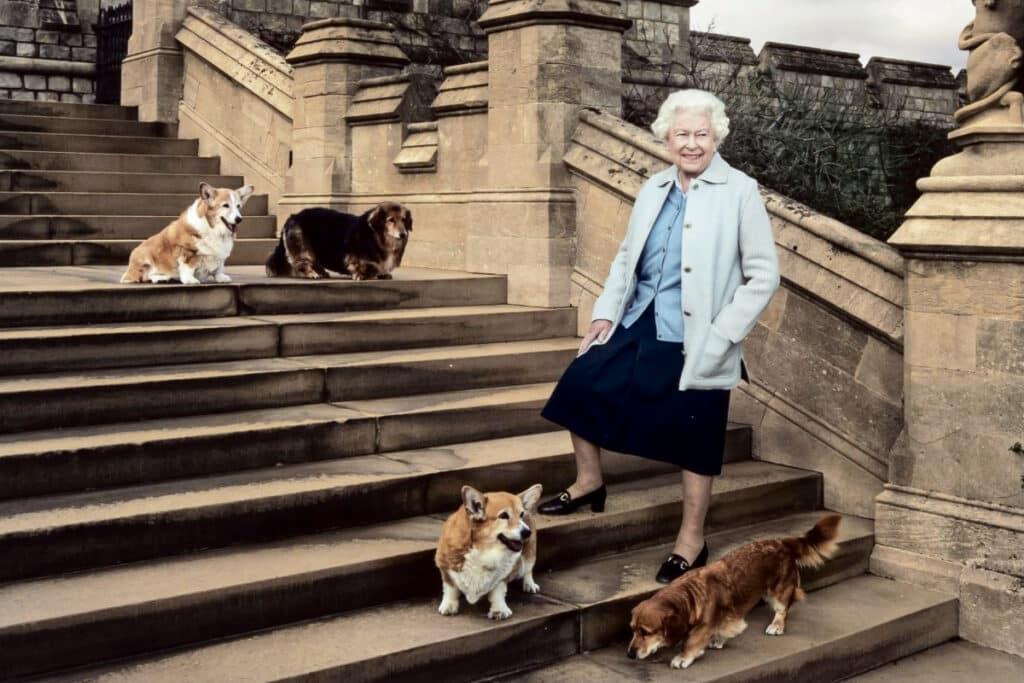 In the video celebrating her 70th anniversary on the throne in February 2022, Queen Elizabeth looks at gifts for previous birthdays and anniversaries in the Oak Room at Windsor Castle. The elderly Dorgi lady Candy also stops by briefly.
Link Tipp:
Waldman VI, the favourite dachshund of Queen Victoria
Queen Victoria (1819-1901) is one of the British monarchs who have been very active in animal welfare. She had supported the Society for the Prevention of Cruelty to Animals since 1835 and awarded it the honorary title of "Royal" in 1840.
She firmly believed that
"Nothing brutalises people more than cruelty to dumb animals, and to dogs, who are the companions of man, it is especially revolting."
The monarch's lifelong love of dogs was one of the most pleasant traits of her often difficult personality.
The official website on Queen Victoria's diaries mentions the names of more than 640 of her dogs during her 63-year reign, belonging to more than 30 different breeds. Sometimes the names were repeated, for example between 1840 and 1887 there were no less than seven female Dachshunds named Waldina.
Waldman, the sixth dachshund to bear the name, was brought to Britain by Queen Victoria after a visit to the German town of Baden in 1872. When he died on 11 July 1881, a memorial was erected to him in Windsor, calling him "Queen Victoria's favourite dachshund".
Waldina and Waldman (1846)
Among the Queen's favourites was special companion of Prince Albert as well – the greyhound Eos. She accompanied Albert from his home town of Coburg to England when he married Queen Victoria in 1840.
Waldman and Eos (1840)
The fashion for pet portraits was very widespread in Britain, even beyond the royal family. This corresponded to the increasing popularity of pet-keeping among the urbanites of the bourgeois middle class. Animals as human companions played a major role in Victorian moral ideology, extolling loyalty, devotion to duty and an idealised vision of family life.
Queen Victoria visiting Coburg in 1894 – A dachshund sleeps at the Queen's feet.
Link Tips:
---
You might also be interested in