"They are funny. They are clever. They do not take up so much space, and you get, so to speak, a complete dog the size of half a dog."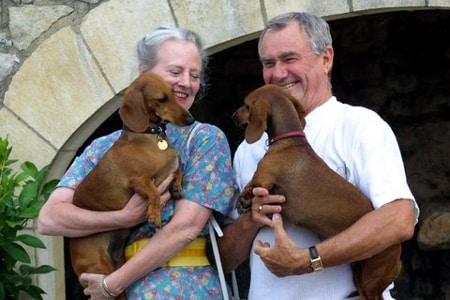 This is how Queen Margrethe II of Denmark described the character of her four-legged friends. In July 2012, the media had reported that the 14-year-old dachshund Lady Evita "died after a long time with declining health". She was the personal farm dog of Queen Margrethe. Meanwhile a new dachshund called Helike has been introduced to the royal court. Helike is a gift from Margrethe's husband, Prince Henrik.
In a 2018 video of the Danish royal family, Queen Margrethe brings rice pudding to the goblins – "nits" in Danish – in the attic to keep them out of mischief. The monarch wears a jumper with a dachshund on it, whose back ends up on her back.
"She likes dogs, horses, men and women – in that order."

Graham Turner [Writer for the Daily Telegraph]
Queen Elizabeth II is known for her love of animals. The dog in the photo is probably the red miniature short-haired dachshund Nicky of her mother, who was an honorary member for life in the English Dachshund Club.
---
You might also be interested in