Picasso painted the plate at his home in France on April 19, 1957. The dachshund named Lump belonged to photojournalist David Douglas Duncan, who created a photographic memorial to his dog in the book Picasso & Lump: A Dachshund's Odyssey. This dinner plate was later viewed with envy by museum curators, millionaire collectors and even old friends of Duncan.
One spring morning in 1957, veteran photojournalist David Douglas Duncan paid a visit to his friend and frequent photographic subject Pablo Picasso, at the artists home near Cannes. As Copilot along Duncan in his Mercedes Gullwing 300 SL was the photographer's pet dachshund, Lump. […] Lump was immortalized in a Picasso portrait painted on a plate the day they met, but that was just the start.

Picasso & Lump: A Dachshund's Odyssey
David Douglas Duncan, a native of Kansas City, Missouri, is best known as a photographer of the Korean War. His images brought the brutality of war home to countless Americans who, with the memories of the just-ended Second World War still fresh in their minds, understandably wanted nothing more than to block out the carnage that was being wrought and endured in their name half a world away.
Duncan had lived on the Cote d'Azur since the 1960s and developed such a close friendship with Pablo Picasso that he spent entire months in his artist's villa and wrote a total of seven books about him. He was the only person allowed to photograph many of Picasso's private paintings.
"As soon as he got out of the car, the puppy took a sniff at the garden, took a look at all the interesting corners in the villa, and just moved in. He dumped me for Picasso."

David Douglas Duncan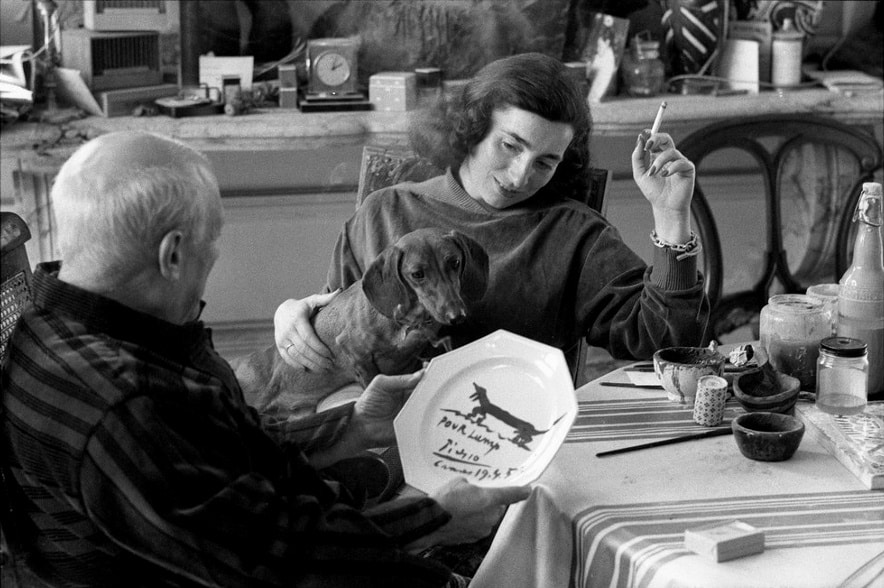 "I think Picasso loved him because they were both loners.They were both capable of great warmth but finally lived in their own inner worlds. Picasso used to say that Lump was neither a dog, nor a human, but something else."

David Douglas Duncan
Duncan donated the plate, signed and dated by Picasso, to the Ransom Center in Austin, Texas, in 2011. He had already donated his personal archive to the Center in 1996, which contains more than 36,000 prints, 87,000 negatives and 21,000 slides, as well as correspondence, manuscripts, camera equipment, artwork and personal items.
In 1964, during a visit to Picasso, Duncan was informed that Lump was not well. The dog was suffering from a spinal condition that meant he could no longer use his back legs and was being looked after by a local vet in Cannes. Duncan visited the vet and was told that the condition could not be cured and the vet was no longer feeding him. Duncan got a second opinion, took the dog back and drove with him to Stuttgart.
"I drove overnight with Lump to Stuttgart, feeding him over my shoulder with my peanut butter crackers. There was a celebrated vet there who said immediately, after touching Lump's paws, that he was not paralysed.

After a few months' treatment, Lump came back to live with us in Rome. He always walked a bit like a drunken sailor after that but he had a good life for another 10 years. We used to carry him around in a Pan Am bag…

And do you know what? That little dog, born in 1956, and Picasso, born in 1881, died within 10 days of each other in 1973."

David Douglas Duncan
On June 7, 2018, David Douglas Duncan passed away in Grasse in the south of France at the age of 102. He is considered one of the most important photojournalists of the 20th century.
Sites:
---
You might also be interested in